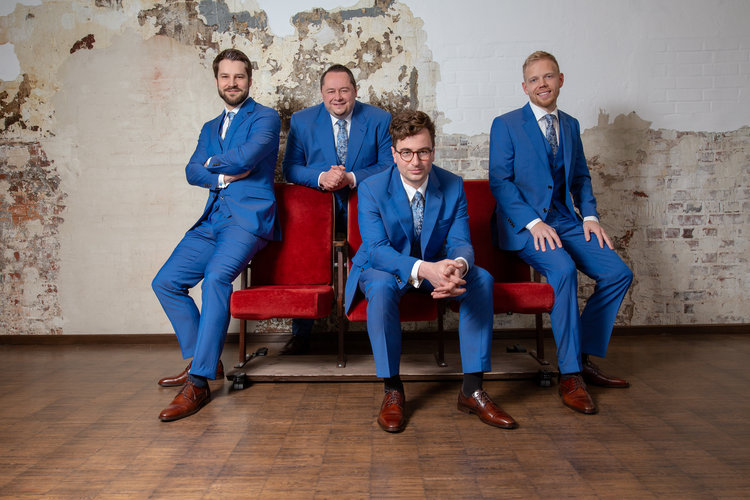 Quartonal began its roots in Northern Germany in the Uetersen Boy's Choir and is currently one of the most sought-after vocal ensembles in Germany. The four young singers, Mirko Ludwig (Tenor), Jo Holzwarth (Tenor), Christoph Behm (Baritone) and Sönke Tams Freier (Bass), charm their audiences with their vast repertoire, attention to the smallest musical detail and refreshing witticism. Their trademark is their acutely harmonious sound that transcends every musical genre.
Shortly after the formation of the ensemble in 2006, Quartonal won first place at the German National Choir Competition (Dortmund) in the Vocal Ensemble category. Since then they have won multiple prizes in various international competitions.
The ensemble continues to perform throughout Europe, as well as Taiwan and China. The four singers are frequently invited to perform at festivals such as the Schleswig- Holstein Musik Festival, Musikfest Stuttgart, Rheingau Musik Festival and MDR Musiksommer.
The repertoire of the ensemble covers a large part of the spectrum of the international a cappella literature: Renaissance Madrigales, sacred and secular men's choral works of the romantic period to contemporary compositions, international folk songs, while specializing in German and low German folk songs. In addition, they pride themselves with performing new compositions and arrangements. Quartonal collaborates with international renowned composers and arrangers. They have also received artistic direction from the King's Singers.
In 2013 Quartonal debuted their album Another Way with Sony Classical. The album incorporates music by English composers of the 20th and 21st century.
Everytime, Quartonal's second album with Sony Classical (2017), presents a collection of international pop and folksongs.
Quartonal also gives workshops around the world for choirs, vocal ensembles and conductors.